Vamping Up (Initial Step Stool)
I am a sucker for step stools so it was obvious to me what to do with a scrap piece of wood leftover after a remodeling project. Make a step stool!
I am terrible at remembering to take "Before" pictures and this time was no exception. This is a picture that my middle son took while I was painting the "S".
I was going to do a list of materials for a tutorial but I realized I don't know the names of my materials. I call things "thingies" or "the thing that holds the thing". So I posted pictures instead. I promise I'll get better at either learning what things are called or at least take pictures of the packages that the "thingies" come in to post.
I love the distressed look, especially having little kids around. I feel like the furniture can take a beating from my little ones and that just adds character to my pieces.
I'm a little on the impatient side and I couldn't wait until this stool was finished so I didn't do anything to the bottom side. That's leftover paint from when I first made the stool.
Here it is in it's current place! What do ya think??!!
Here are some pictures of my other step stools around the house.
And on a different note, here's a pic my middle son took of himself while he patiently waited. :)
Linked to: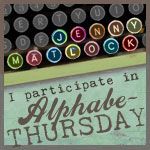 Pin It