Another Step Stool Revamp
Ever since I started blogging, I can't look at store-bought furniture without trying to find a way to revamp it. Little by little, I intend on revamping the furniture (or knick knacks) in our house to make them look like they are a fabulously personalized item. But this takes time and time is a very precious thing when you have a life.
For the moment, let's concentrate on this simple little step stool. Step stools around my house never stay in one spot. The Sun Kissed Boys are always carrying them to reach places that they should or should not be into. This stool is in my kitchen right now. I first sprayed painted it with Heirloom White.
I discovered this wonderful spray paint color by Rustoleum called Summer Squash. It's like sunshine in a can!! My kitchen only has one window so it can use a little "sunshine". So I did a coat of Summer Squash. (I thought I had a picture of that but I guess I forgot to take a pic.) I distressed it but thought it needed a little something else.
Because I am not good at freehand, from my printer, I printed "
Sunny days
" using
Zapfino
font, bold, and sized at 110 to a plaint piece of paper. I then traced it onto the step stool using carbon paper.
I filled it in with paint using a sample paint I had called Bittersweet Chocolate. (I love names! I've been know to buy paint colors (and wines) just for their name. I'm a sap, I know.) I knew I was going to distress the letters so I didn't worry too much about staying in the lines.
Finally, I distressed the words.
Seeing it in its final spot makes me smile.
On a related note: While I was taking pictures for this post, Sun Kissed Boys #2 & 3 came by for a photo shoot themselves. This is a rare one that I had to share.
Don't you love it??!!
Update:
Sun Kissed Boy #3 has taken it upon himself to revamp this stool. I left paint out and he stepped on it then on to the stool.

For sentimental reasons

, I couldn't paint over it. This is what it looks like after he worked his "magic".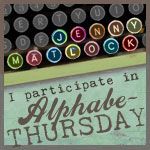 Pin It