The Stinky Stash
-There's no chore I dread more than laundry. I don't like the sorting. I don't like the switching from washer to dryer. I don't like the folding. And I especially don't like the putting away!! But it's always there, breeding and multiplying. Now, I try to do anything I can to make it easier on myself (not that it motivates me to do it any more frequent)
so I decided Sun Kissed Boy #1's hamper needed to help me.
It's a big trashcan (which is what I feel like doing with all the clothes sometimes, trashing them!)
that I got on sale at Homegoods. I love that it's bright and colorful and big. But that also means it gets heavy to take over to the laundry room. (Any excuse to not do it, really)
. But I'm trying, so I put casters on it to simply roll it to the laundry room.
I originally bought the casters to make something like this Pottery Barn coffee table.
But the 4th caster I bought was the wrong size and it's still in the back of my car waiting to be returned to Lowes. That is the reason that I sprayed them in Rubbed Oil Bronze. Had I known I would be wheeling up a laundry hamper, I would have left them in their original color, silver and shiny. I think it would have given it more of an industrial look. But no matter. I used Gorilla glue and just glued on these big wheels. I let them dry overnight.


When I flipped it over, it looked even more like a trash bin. You know the ones that the city sometimes gives you to take your trash to the curb? So I painted some fun letters to try to make it look like something. I used my handy carbon paper because I can't freehand to save my life! Then I filled in with Silver paint.
The Stinky Stash!!!
Still not crazy about it but at least it rolls. If I had to do it over, I'd use 4 smaller (much smaller) casters.
What do you think?
I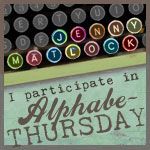 Pin It