I had these construction paper strips left over from cutting circles out for the
Lego Birthday Party gift bags
.
I knew I could use them for something in the future so I saved them. I found good use for them when I was in a jam for gift-wrapping a present and the only wrapping paper in the house was Christmas themed. I used two as "ribbon" on a present that I wrapped with brown kraft paper.
For an embellishment, I made a flower using leftover fabric from fabric I used to upholster Sun Kissed Boy #1's headboard.
I just cut four circles in four different sizes, ranging from small to big. Scalloping the edges would also be cute but I didn't think of it until it was done and I was pressed for time.
Then pin thru three little brads and fold the legs back.
Put some hot glue and place on gift.
I love re-using my scraps!
I
Yanet
I
I
I
I
I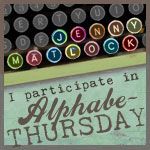 Pin It