-On Friday, Sun Kissed Husband and I will be celebrating 16 years of marriage. To commemorate this, I will be posting wedding, honeymoon, and anniversary related posts this week.
Today we are making "art". I used a white foam board I got for free from our neighbors' garage sale leftovers. You know the stuff that doesn't sell and at the end of the garage sale people leave out on the curb with a big "Free" sign on it and little by little manages to disappear. Except our neighbors don't throw things away. They don't have to, they have me! Ok, ok, on with the project. I spray painted the entire front and the sides of the foam board in aqua blue. Using my printer, I printed wording from our wedding invitation and placed them on the board to trace.
I filled in the letters with off-white paint. My letters came out a little shaky. I don't have a steady hand to start with but to top it off, I was watching a

Louis C.K.

stand up show and I was laughing. Out loud. Hard. His routine about kids cracks me up. I'm going off track again.
After I finished, I thought it lacked umph. I sprayed painted the back of the foam board and painted a little heart and used that as my tester.
I rubbed a little walnut color stain with a paper towel.
I liked the depth it gave it so I did it on the flip side.
Except, this time, I used a little too much stain and the wording wasn't as visible.
Sooo, I re-painted the letters with the off-white. And viola!
I'll show you where I'm displaying it next week.
I
I'll be linking to these fun parties: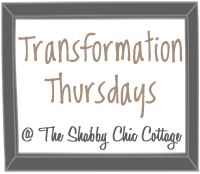 Pin It