Sun Kissed husband and I will soon be married for 16 years! I thought it would be sweet to find a way to display our marriage vows (at least part of them). Wall space in my house is quickly becoming a privilege, so framing and hanging something up was not really an option. My answer came when I saw this in Design Sponge. (
I would love to take credit for this idea but the truth is, I'm just not that inventive. Shhh, don't tell anybody.)
Images from Sticks and Bricks
It was a labor of love made by Liz of
Sticks and Bricks
. She chiseled each letter one at a time!
Shortly after, I found this at a garage sale leftover. I seem to bump into leftovers every once in a while because I usually don't make it out of the house early enough. By the time 1:00 or 2:00 roll around, it's too hot in South Florida to sit out in the hopes of selling maybe five more dollars worth of things. It was in perfect condition when I got it, but I let it sit outside where it got wet.
My first thought was to sand my little table and stain it. But first of all, I hate sanding. And second of all, one of the things that makes my inspiration table beautiful is the gorgeous detail of the wood grain. Since I didn't have gorgeous wood grain, I decided to pack my sander in and just paint. I did sand it just enough to take the sheen off because I don't like priming either. (Can you tell I'm an instant gratification kind of chick?)
After the paint dried, I stamped the words using a
stamp set and ink pad I bought at Jo-Ann Fabrics a while back when they had them 40% off. I
was actually going to include more of the vows but I got impatient once again. (Notice Sun Kissed Boy #3's art on the Marriage Service program.)
Finally, I sprayed it with polyurathane.
Here it is in it's place.
I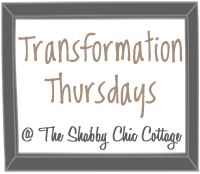 Pin It