In the Sun Kissed Boys' playroom, I've started an alphabet wall. I only buy letters when I find them on sale and I also want different fonts to them so it's going to take me a little while to complete. My intentions are to have all the letters in gold, silver, or bronze except for our initials. For all our first name initials I want to paint and embellish the letters.
I spray painted the letter Y in my favorite color.
Then I embellished it with these rosettes I made with white and black fabric.
The little faux pearl in the middle came from an old necklace that had broken.
While I made my rosettes Sun Kissed Boy #1 made a craft of his own. A Harry Potter wand
!
I
Yanet IIIII
Linked to: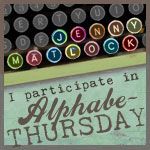 Pin It