-If you've read at least ten of my blog posts (if you haven't, get crackin'!), you've probably realized that I have a great love for at least three things in life, the Sun Kissed Boys (of course), garage sales, and craigslist. In the near future I intend on doing a post on all of my craigslist finds but right now I want to tell you about my little 10-dollar dresser.
When I bought this dresser, it was spray painted flat red and had no knobs. I have no before pictures because this was purchsed during my pre-blogging days. I had a bunch of crackle treatment finish on hand so I brushed a coat of that then topped it off with a coat of blue leftover paint from SKB#1's bedroom.
It still needed some pizzazz so I did a reverse distress with leftover silver paint I bought for a project that never materialized.
I used the knobs that I had stashed away from SKB#1's

baby dresser

.
They use to look like this.
But when I decorated his baby room, I was inspired by the wall border and painted the knobs to match the nautical teddy bear.
My aunt did this great mural on the wall inspired by the same bear.
Yanet
I
I
I
I
I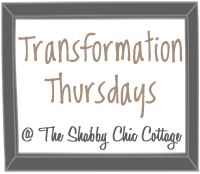 Pin It