-When I went

antiquing with SKB #1

, I saw this tin "Refreshment Center" sign I loved.
I didn't buy it because I knew I could recreate it myself (and I'm cheap).
This tin sign was originally for the

Mancave

but Sun Kissed Husband hadn't hung it up and in this house, if you snooze, you loose.
I turned the sign over (just in case Sun Kissed Husband ever wants to reclaim it) and got to work. I sprayed it black with dirty sticker and all. I'm not much for prep work.
I used these letters for the words but they are only sticky back on the top so I used spray glue to make sure they stuck. I also used painter's tape around the edges to give it a border.
I then spray painted it in white but I forgot a picture of that. Oops!
And here's the finished product.
Ok, I am not crazy about it. It needs something. What is it? Perhaps a graphic? Maybe I should distress it some. Maybe I should leave it outside to rust some. Maybe I should just have bought the vintage one. Hmmm…
I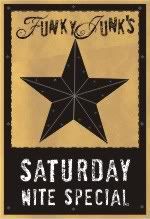 Pin It