We have a lot to be thankful for in our house.
I want the boys to realized how blessed we are so we've started a new tradition around our house. I had the Sun Kissed Boys write on index cards what they were grateful for.
SKB #1 helped SKB #3 with what he thought he should be thankful for. He also served as a translator.
Then they put them in the "We're thankful for…" jar.
SKB #1 decorated the jar with crafts he had done in school.
SKB #3 enjoyed this activity so much, he lingered on even after the bigger brothers were gone.
The thought is to every so often sit and write (or draw) what we're thankful for. Then share it with everyone at the dinner table. This not only helps us step back and appreciate things that we might otherwise seem to take for granted, but also creates great memories.
I'll be gone for the rest of the week. Happy Thanksgiving everyone!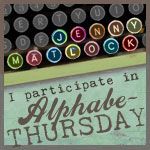 Pin It