I have an on-going joke with my husband that he can look inside a refrigerator, find just a jar of mayonnaise, a jar of jam and somehow manage to make a gourmet meal out of the ingredients. The same thing goes for my guest this month. Only with her, it's trash! SHE turns, what seems like, trash into funky and junky decor. SHE can make a desk out of a pile of pallet rubble.
SHE is

Donna

of

Funky Junk Interiors

.
Now, she's amazing with power tools and all but do you know what I find even more amazing about this wonderful woman? With almost 9,000 subscribers, she manages to respond to your questions to share her wealth of knowledge. Through her blog, she brings you into her life and makes you feel like a friend. Feeling down? Read a few of her

inspirational posts

and she will get ya out of that funk. Plus, she has pretty hair.
And now, making gourmet meals out of mayo and jam, I give you Funky Junk Donna.
Decorating with the things YOU love
How many times have you glanced through blogs or magazines, wondering if you ought to try this or get that?
Do you ever wonder if YOUR style is right? Does it measure up? What about 'real' designers, ever grimace when you know one is reading your stuff?
Early on, when I first started sharing what was inside my head, I feared pressing the
publish post
button. What if others laughed at what I did?
But there came a time when I just threw caution to the wind and allowed myself to just be me, no matter what. Can you imagine my surprise when I started getting kudos for some of the things I pulled out of my hat?
Today, the projects are growing a little bigger and braver. As I gain more know-how for building, it just gets easier creating what you desire to have.
Back to you. I'm not here to tell you you need to funk or even junk up your homes like I do and go for the salvaged look. If that's not your deal, that's ok! But what I would like to throw out there is, give yourself permission to be who you wish to be when it comes to decorating your home.
So, how do we go about defining what's really us? What if we feel we have
no style
? Here are a few suggestions in accomplishing a look that is right for YOU.
Gather up inspiration
Inspiration will teach you what you love. Allow other design sources to speak to you. Gather up clippings, photos or posts on what you DO like. Soon enough, you'll see a trend towards repeated loves.
A wise friend told me to keep our 'card file' full. And the only way to fill it is to keep adding to it.
Have you heard of
Pinterest
? It's an online photo storage area that allows you to 'pin' any photo from the net, maintaining the link to the originator. All the pins are shared so you can re pin what you see as well. This is a fabulous route to gather the goods where you don't crowd up your hard drive. Check it out!
Change as your desires do.
Would you believe I went through that pink and blue era? Everything was lacy, clean, and brand spankin' new out of the store back in the day.
Well... look at me now! :)
Our loves will morph and change as the years go by. We're influenced by what others do and what's in style. Allow that info to guide you, not control you, on how to achieve your OWN spin of what you love. And yeah, I give you permission to rip up the 15 year old carpet off your stairs and paint them up instead or something. :)
Strive for originality
Ever go into someones home that has the same side table as you? While that's not a bad thing, I'll admit when I struck out on my own direction, I started to feel more gratification and pride for my look. There's just something fascinating about having a one of a kind creation.
Perhaps that boring little side table could be treated in a unique way. Think outside of what you see, and attempt to see what it COULD become. That's the key on achieving original creations.
Bring home only the things you LOVE.
How often do you bring home great deals? We all love a good price, but if you don't absolutely positively LOVE the item? Save your pennies and valuable real estate for something that truly speaks to you.
But it was a good deal!
Yeah, yeah, I know. Here's a rule of thumb I run by myself when I come across a scream of a price. "Would I pay regular retail for that piece?" If the answer is yes, that means I'm getting it because I love it.
Listen to your heart
When I was trying to figure out how to rebuild and decorate my kitchen, all things always led to white. At the eleventh hour, I reverted back to wood cupboards. While I'm actually very happy with them, I always wonder what it would be like to have gone with my dream kitchen instead. My next home WILL have those white cupboards. And if I can't afford to buy them, you can bet I'll try and make them. :)
Be proud of your home!
I don't love the outside of my house. I live in a typical box style that would not turn your head as you drove by. The good news? I can like it because of what I do with my stuff.
We all dream of moving into that vintage farmhouse in the middle of a couple acres with a big 'ol barn out back. But I have a confession. I had that house before this one. And while I have wonderful memories of every nook and cranny, I have one word to say about owning what you think is your dream home. IT'S ALOT OF WORK AND COSTS ALOT OF MONEY. Not just the house. The yard. The animals you'll ultimately want to try. The works.
There's nothing wrong with dreaming of something different than what you currently have. In fact, it could become a realistic goal! Just don't think TOO grand. Chances are, what you have right now is serving the purpose just fine for now, and remember, WE make our homes what they are, not the other way around.
Tired of it? Gut a room and change things around. This is my very survival technique of falling in love with my home time and time again. And quite frankly, I have a feeling I'll NEVER be finished at this rate. :)
~ ~ ~ ~ ~
I have a little saying when I decorate.
"What's not to love when you surround yourself with all the things you love?"
Now go make it yours and fall in love! I did. :)
Thanks for having me over, Yanet! I love your blog, your outlook on life, and your style is fabulous! It's an honor to be here. :)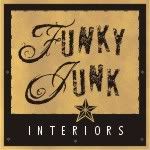 The honor has been mine, Donna. Your optimism and go-get-'em attitude is quiet inspiring. Thank you so much for sharing your time with us.
Previous Guest Hosts:
February - Ashley Ann of Under the Sycamore {

Homemade Stickers

}
Pin It