Today's Guest Host is the super talented

Shaunna

from Perfectly Imperfect.
I came across Shaunna when I clicked into her post of

doors-turned-daybed

through a linky party.
As if the daybed wasn't impressive enough, this is the space it sits in. This is her dreamy

writing room

.
Wouldn't you love to spend a day with Shaunna to soak up all of her knowledge? Oh wait, you can! Well, sort of. Shaunna tells all in her e-book,

Creating

Your

Masterpiece

.
Now for your enjoyment, I leave you with Shaunna.
Hey friends!! I want to say thank you to Yanet for inviting me to come hang out for the day...it means so very much to me!
If we haven't met, I'm Shaunna and I write a blog called
Perfectly Imperfect
. There I like to share my passion for DIY decorating (on a budget, of course), my family life, photography, writing, and lots of other random things. I began painting furniture while writing the blog, and have been blessed beyond measure. Through the time I've written the blog, I've been fortunate enough to sell my work online and now at a local antiques shop, and write an ebook on painting furniture,
Creating Your Masterpiece
.
As I was thinking about what I'd love to share with you, flipping through pictures, little things I had learned along the way of painting furniture began to flash through my mind. Little snippets, really, but things I know are important to all of us DIY'ers.
#1--Don't be afraid to try anything! Give any product a shot...you never know what you'll wind up loving, and what will help you create the look in your home you're going for. My latest try (and love) is
Annie Sloan's Chalk Paint
...can't get enough of it! I recently wrote an
FAQ post
on it, complete with all the things I've found out so far and video tutorials.
#2--Find your perfect white! When painting or restoring, you need a go-to color...and for me, that's white. A fresh coat of white transforms even the dullest of furniture, making any piece relevant in your home. Plus, it's just flat-out pretty! My faves? Benjamin Moore's White Diamond and Annie Sloan's Old White (pictured above).
#3--Mix your own colors. If you can't find the perfect color or (like me) trying to use what you have on hand? Mix it yourself! This was a mix of Annie Sloan's Aubusson Blue and Old White, and turned out to be a beautiful, smoky blue. The best? I didn't have to buy any more paint. :-)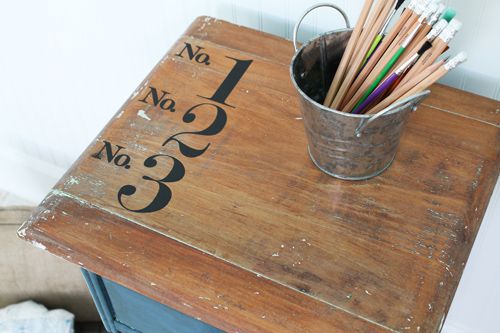 #4--Step outside of your comfort zone! This was a hard one for me, as I originally always worked with white (and it's still one of my favorites), but eventually, I was itching to try something different, more daring. Look around online (
Pinterest
and other blogs are great places), to find tons of inspiration pieces that you'd like to recreate in your home.
#5-- Hardware is like furniture's jewelry. Feel free to experiment with it...again, you never know what will be your winning combo. I also love to stock up on it when Hobby Lobby runs their 50% off sales, and when I find clearance knobs at
Anthro
. Looking for some great metals, glass knobs, ring, and drop pulls? I love
Lee Valley Tools
and
D Lawless Hardware
.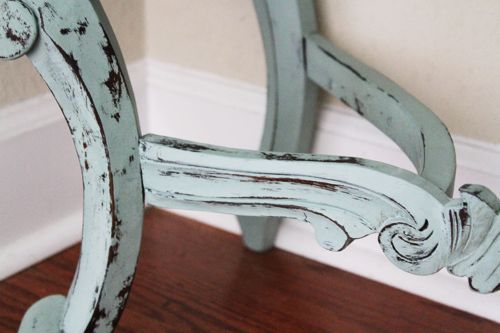 #6--Don't be afraid of distressing. To distress or not distress...that, is often, the question. It can be hard sometimes to take a sanding block to a freshly painted piece....but, start slowly, and take a step back every now and then. You are, in fact, creating art...study it and see what's working. I hardly ever distress this much, but it was just what this piece needed to be a knockout.
#7--Use your furniture as the bones of your design. After you've been inspired and have created your masterpiece, allow it to be a canvas for all of your treasures and collections. This entry chest is a statement piece in our home, and I love that any given month, it will evoke a different feeling and mood. Put pieces in your home that you love, that mean something to you and your family...nothing will inspire you more!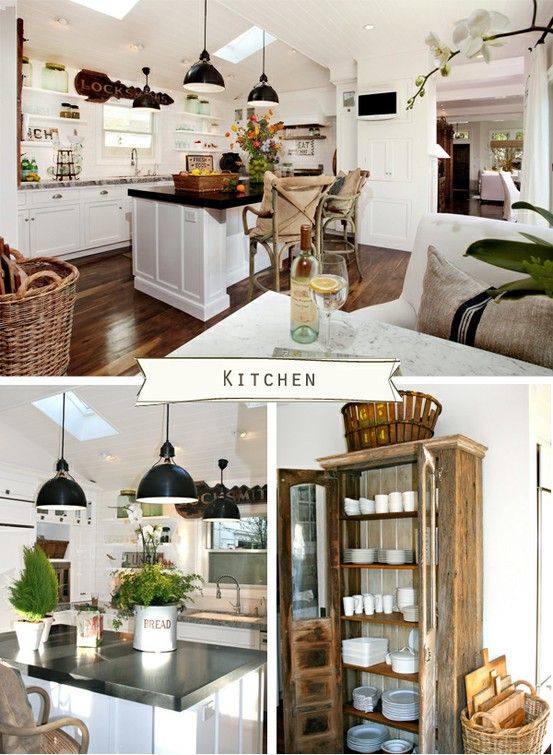 theletteredcottage.net
#8--All that being said, don't feel like you have to paint everything. Look for pieces with beautiful wood tones and patina that you can leave untouched. They will bring warmth and character to your space, and the contrast will highlight your painted pieces even more.
At the end of the day, above all else, trust yourself. Look around the world for what inspires you, bring that into your home in objects, art, and especially, in your furniture...before you know it, you will have created spaces that you and your family long to be in...to call home.
Thanks again, Yanet, for having me! I hope you guys will stop by sometime and say hello!
Thank you for taking the time to share with us, Shaunna.
Go see all Shaunna's got in store at

Perfectly Imperfect

.
Previous Guest Hosts:
Pin It