Memories. That's what we did last week, built memories. I know this vacation, as simple as it was, the kids will remember forever. What kids, you ask? Well, the
Sun Kissed Boys
, of course.
But also my friend's stepdaughter, The Teenager (who will probably hate that I've grouped her with "The Kids"}; son, The Stache; and niece, Miss Sunshine.
He got named The Stache because my boys were completely fascinated with his peach fuzz mustache. They don't know very many 12-year olds with whiskers.
Miss Sunshine has
gold, corn-silk hair, and a
smile that lights up the room, hence the name. Sun Kissed Boys #3 was completely smitten by her.
They built memories in the sand not to be forgotten. Memories that make for a great childhood. Full of fun, laughter and adventures, as youth should be.
Memories that, hopefully, they will talk about many years from now.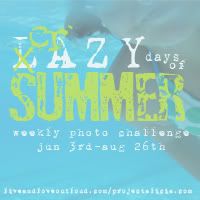 Pin It